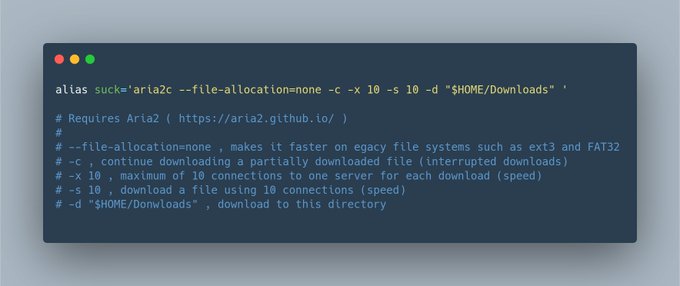 🧙⌨️ One of the magic CLI aliases I love and use very often.

Use it like this:

suck https://my-download-link

Requires the powerful download tool Aria2:

#CLI #linux #bash #zsh #unix
The alias code:
alias suck='aria2c --file-allocation=none -c -x 10 -s 10 -d "$HOME/Downloads" '

---
Useful links & references:
---
Footnotes:
Follow me on Twitter to get more posts like this and other quick tips in your feed.
If you have any doubts or tips about this article, I'd appreciate knowing and discussing it via email.
Do you have any other Cli tips? Would you like to publish that in this blog? Please send an email to cli drops.
As English is not my native language, I apologize for the errors. Corrections are welcome.
Contact: cli [@] alldrops [.] info.